Artist: Lavett Ballard
Jan 26, 2021 – Mar 20, 2021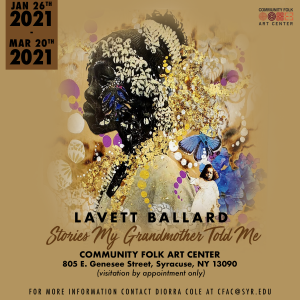 Community Folk Art Center Presents Exhibition 'Stories My Grandmother Told Me'
In celebration of Black History Month, Community Folk Art Center (CFAC) presents "Stories My Grandmother Told Me," featuring New Jersey-based artist Lavett Ballard. The exhibit runs through March 20.
Ballard's use of imagery reflects social issues affecting the African American experience within a historical context. Her current body of work layers collaged photos adorned with paint, oil pastels and metallic foils on reclaimed, aged wood fences. The fusion of wood and photography offers artwork that explores Ballard's southern roots and speak to themes in her community. In March 2020, Time Magazine commissioned Ballard's painting "The Bus Riders (1955)" to commemorate the 100th anniversary of women's suffrage.
To view Ballard's work at CFAC, email cfac@syr.edu<mailto:cfac@syr.edu> to make an appointment or view the exhibit virtually beginning Feb. 8 at cfacgallery.org<https://cfacgallery.org/>.
About the artist:
Lavett Ballard<https://www.lavettbeart.com/> is an artist, art historian, curator and author. She holds bachelor's degrees in studio art and art history, with a minor in museum studies, from. Rutgers University, and an M.F.A. in studio art from the University of the Arts in Philadelphia.
Ballard's art has been commissioned as a cover for Time Magazine's special Woman of the Year double edition, released March 2020. Among her accolades, Ballard is a 2020 Yaddo Artist residency recipient; a Pew Foundation residency nominee and named one of the Top 10 Female Emerging Artists to Collect by Black Art in America. Ballard's work has been in film productions and exhibited at galleries and museums nationwide. It has also been acquired by prominent collections such as the African American Museum of Philadelphia, the Colored Girls Museum, the Grant Hill and Petrucci Family Foundation Collection, Syracuse University Community Folk Arts Center, and Jule Collins Smith Fine Art Museum at Auburn University Collections.