Artist: Various
Artist: Karen Schwartz
Jun 29, 2015 – Aug 15, 2015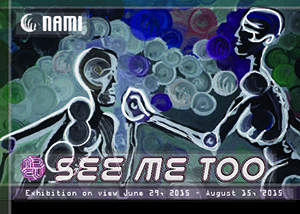 Our collaboration with NAMI is scheduled to open June 25th and on view until August 15, 2015.
NAMI is a vital and active non-profit advocacy organization with a member chi of over 500 families.  In 1998, PROMISE Project Inc, was established.  To date, two residences have purchased and serve the housing needs of several clients.  NAMI's mission is to support families of persons with mental illness, fight stigma, advocate to services and educate the community about mental illness.
Opening Reception will be Wednesday, July 8, 2015 from 1-3pm.  Will feature live music, poetry readings and Karen Schwartz book signings.
For more information regarding NAMI, please visit their website.