Artist: Various
Feb 11, 2021 – Apr 18, 2021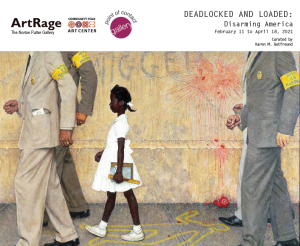 ABOUT THE EXHIBIT:
Curated by Karen Gutfreund.
What does America value? Life or Liberty? A 2019 Gallup Poll cited 64% of Americans wanting stricter guns laws. Now in 2020, only 42% feel that way. In fact, a poll taken in October 2020 by Rasmussen Reports shows that 22% of gun-owning households have purchased additional weapons since protesters have taken to the streets…thinking it will make them safer.
Deadlocked and Loaded: Disarming America is a "locked and loaded" conversation through art, showcasing art in all media that addresses the culture of violence, systemic racism, police brutality and gun issues in the United States—particularly in how it affects women and children and the lasting impacts.
From a feminist perspective with work from self-identified female artists, how do we tackle the role gender plays in gun violence and the gun control debate in a time of pervasive toxic masculinity and the erosion of women's rights? The works speak to issues that include gender, race, mental health, political affiliations, philosophical stances, remembrance and memorials, and access to and use of firearms in regard to the 2nd Amendment.
Deadlocked and Loaded does not seek to provoke controversy with "shock art", but rather to serve as a conduit to create a space where constructive conversation and healing is possible.
This exhibition is presented in collaboration with ArtRage Gallery and Point of Contact Gallery in Syracuse.
ARTISTS:
Community Folk Art Center: Jenny Balisle, Alice Beasley, Mona Cliff, Sally Edelstein, Justyne Fischer, Nette Forné Thomas, Leslie Kerby, JoAnne McFarland, Carol-Anne McFarlane, Brandi Merolla, Priscilla Otani.
ArtRage Gallery: Salma Arastu, Lorraine Bonner, Beth Costello, Cat Del Buono, Justyne Fischer, Pamela Flynn, Lisa Freeman, Marlowe Jones, Kate Kretz, Beth Lakamp, Ann J. Lewis, Sarah Maple, Penny Mateer, Rosemary Meza-DesPlas, Amy Pleasant, Michele Pred, Lucky Rapp, Jenny Reinhardt, Karen J. Revis, Beverly Rippel, Kadie Salfi, Gigi Salij, Patricia Turner, Margi Weir.
Point of Contact Gallery: Christine Ilewski
ABOUT THE CURATOR:
Karen Gutfreund is a curator focusing on feminist and social justice themed art and is also a practicing artist. She has worked in the Painting & Sculpture Department for MoMA, the Andre Emmerick Gallery, The Knoll Group, the John Berggruen Gallery and the Pacific Art League as well as an art consultant for corporations and individuals. She is partner in Gutfreund Cornett Art, a curatorial partnership that specializes in creating exhibitions in venues around the U.S. ​on themes of "art as activism" to stimulate dialog, ​raise consciousness ​and encourage social change. Karen has been actively involved on the board of various arts organizations, is a member of ArtTable and the No. California TFAP Representative (The Feminist Art Project).
EXHIBIT SPONSORS:
Carl Alerico, Mary Bronner, Mary Czelusnick, Dee DeRosa,
Sylvie Destian, Margrit Diehl, John S. Fitzsimmons,
Lanny Freshman & Rae Kramer, Barbara & Barry Gordon,
Sam Gruber & Zoe Meighan, Wendy Harris, Marianna Kaufman,
Diane & Eric Luft, Lorraine Morganti, Carole Resnick,
M. Russel & F. Marion Lee, Craig Schlanger & Rosemary Welch,
Ann Tiffany & Ed Kinane, Carmen Viviano-Crafts,
Anita Welych, and Mary Ann Zeppetello
SEASON SPONSORS:
Annemarie Deegan, Chris Flynn, Julia Ganson,  Ruth Heller-1199SEIU,
Jeff Hoone & Carrie Mae Weems, Mary Kuhn & Dave Thomas,
Anthony Malavenda & Martine Burat, Lauren & Walter Melnikow,
George Savage, Laurie Gilmore Selleck, Sharye Skinner,
Peter Waack, Shailia Wood & Ramesh Gaonkar, and Amy Zamkoff
SPECIAL BENEFACTORS:
The Dorothy and Marshall M. Reisman Foundation, Onondaga County/CNY Arts,
Bousqet Holstein, PLLC, Anonymous, Donald Blair & Nancy Dock,
Caroline Cargo, Therese A. Deegan, Edgewood Gallery,
Sandra Hurd & Joel Potash, Ann Jamison, Nancy & Bruce McCoy,
Jeremy McKay, Shirley & Larry Novak, Robert Sarason & Jane Burkhead, Vince Sgambati, and Rick Olanoff & Susan Wadley.
COVID-19 SPECIAL BENEFACTORS:
City of Syracuse Industrial Development Agency, CNY Arts COVID-19 Arts Impact Fund, Humanities NY, The Federal Home Loan Bank of New York in partnership with Cooperative Federal, Therese A. Deegan, Mike Greenlar & Linda Bogart-Greenlar, Ruth Heller -1199SEIU, Sandra Hurd & Joel Potash, Robin Kasowitz- Art to Heart Project, Karen Kerney, Mary Kuhn & Dave Thomas,
Nancy & Bruce McCoy, Jeremy McKay, Ellen Schwartz, and Sarah Stuart-Mcllvain
SUSTAINING SPONSORS:
Walter Putter & Marilyn Smith