Artist: For more information, email jo.curator@gmail.com
Nov 28, 2017 – Jan 05, 2018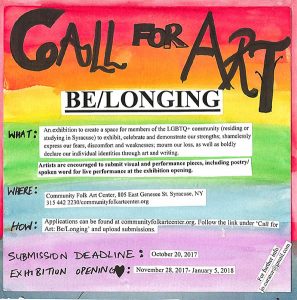 An exhibition to create a space for members of the LGBTQ+ community (residing or studying in Syracuse) to exhibit, celebrate and demonstrate our strengths; shamelessly express our fears, discomfort and weaknesses; mourn our loss, as well as boldly declare our individual identities through art and writing.
Artists are encouraged to submit visual and performance pieces, including poetry/spoken word for live performance at the exhibition opening.
Submit your work using the Artist Submission form.