Artist: Various
May 07, 2016 – May 20, 2016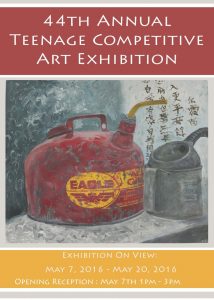 In collaboration with the Syracuse chapter of The Links, Inc., Community Folk Art Center will present the "44th Annual Teenage Competitive Art Exhibition." The Annual Teen Competitive Art Exhibition is the longest running collaborative exhibition in the greater Syracuse area that features the work of underrepresented teen artists. Prizes are awarded to winners in two-dimensional and three-dimensional categories. A panel of local art professionals will serve as judges for the exhibition. Participating students attend Syracuse City high schools as well as suburban Onondaga County High Schools.
The opening reception will be on May 7th from 1-3 pm and will be on view  May 7 through  May 20, 2016.
This event is free and open to the public.