Artist: Various
Artist: Karen Schwartz
Jun 28, 2016 – Aug 13, 2016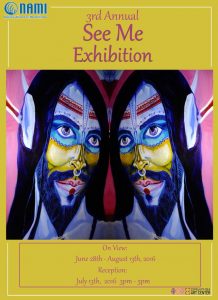 In partnership with NAMI Syracuse we're excited to be hosting the 3rd annual art and poetry show June 28-August 13, 2016
Mental health service consumers and family members, 18 years old or older are welcomed to submit one-two art pieces or poems for this exhibition.
Art work must be display ready.
Deadline for submission of art or poetry is June 14 – June 17.
Reception to be held on Wednesday, July 13th, 3-5pm, 805 East Genesee St. Community Folk Art Center with live music, poetry readings, and Karen Winters Schwartz book signing.
If you are interested in contributing to the reception on July 13th with desserts/soda/munchies or if you have any questions, please call the NAMI Syracuse office, 487-2085.